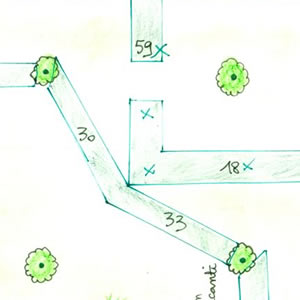 The idea
The idea is to create a multifunctional facility, a place of beauty as well as a place of production of top quality rose based products.
The desire to cultivate roses for herbalist purposes by collecting and transforming pink flowers, at least in the simplest forms, gives birth to the rose garden.
This idea is immediately enhanced by new purposes for the rose garden: why could not create a plant with geometry and aesthetic intent besides being a cultivation facility? Moreover, considering that the field, where the rose garden is to be found, already has a plant of young olive and fruit trees, the need to follow the simple and repetitive pattern of the rows of trees has led to the solution: to position the rosebush in a cross-cutting way, drawing a chessboard.
The project
Since each quadrant (6×6 meters) must be accessible from each side for roses gardening, each quadrant will have a 1 meter opening at least on one of the four side.
This composition is well suited for a roses' labyrinth creation, which will bring you to the centre of the rose garden (importance meaning not geometrical): an area of approximately 180 m2 where a gazebo, covered by climbing roses, will welcome you for wine tasting, dinners and other events.
_
Hence, from the cultivation of ancient and medicinal varieties of roses (with a collection of extremely rich varieties exclusively dedicated to ancient, rare and officinal roses), the rose garden also becomes a garden to be visited. In fact each side of each quadrant holds a different variety, forming a collection of about 70 different types, each one of it with its history and fragrance, a labyrinth in which to get lost and be found and a scenography for wine and rose-based products tasting, lunches or ceremonies.